HORSE TRAILERS SOLD BY HORSE PEOPLE
Denny, Doris & Del McGuire
THE WARRANTY ON YOUR TRAILER IS ONLY AS GOOD AS THE DEALER YOU BUY IT FROM!

Parts available for most makes and models of trailers.
Always a buyer for good, clean used trailers.
Trades & consignments welcome.
DUE TO OUR LOW OVERHEAD…No high lot rent, no flooring, no commissioned salespeople…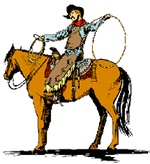 Apples for apples we will always be super competitive.

WE ARE THE COMPETITION!